Arsanjan Pavo tails Marble that is called Pavo tails marble among the marble stones with streaks like Pavo tails has attracted many supporters.
This type of stone, which has a gray color with brown fossil designs, is produced in the form of stones that have a bird-shaped design. This stone is processed in the form of surface finished and polished and tiles and longitudinal.
Application Of Arsanjan Pavo tails Marble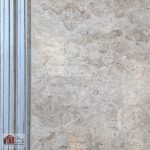 Applications of this type of stone can be used in the walls and interior spaces. Also, Arsanjan Partavoosi Marble, which is also a product of the SangeVazin online store, like most other types of its family in the category of marble stones is used indoors.
If this stone is not used properly (for example, use in outdoor spaces such as facades and outdoor floors) due to the calcareous nature of marble and its high water absorption, you will see erosion and clogging of its glossy surface. You will see erosion and Darkening of its glossy surface.
The mines of this Iranian stone are located in Fars province in Iran, which can be said to have a good record of marble mines. This type of stone can be considered in the category of gray stone.
All about Marble stone