Harsin Marble, grade 1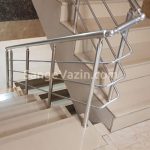 Harsin Marble is one of the most popular stones in the construction industry. After many years, it is still used in the interior facades of the building ( staircase, building floor, building body, building floor, parking lot, etc.).
This stone is available in cream, light cream, beige cream, and light bone colors and has wonderful beauty and radiance. Harsin marble has a higher surface finish and glossy than other stones. Its mine is located in Kermanshah and is exported to countries such as Italy, China, Turkey, and the Persian Gulf states.
 Features Of Harsin Marble
This stone will make the space beautiful due to its uniform surface and stylish color.
It has a high glossy surface and polished.
It has relatively good compressive strength and does not break easily.
It is very easy to clean. Its maintenance will depend on how you use it. In cases where the surface becomes cloudy, the surface can be scratched with a sanding machine like the first day without scratches.
Harsin Marble Selection Indicators
Type of stone
The dimensions of the stone
Accurate sorting and minimal play of stone diameter colors
Stone's surface and back processing
 Stone's surface finish
No fractures on the stone surface
Packing and sending stones
 The price of Harsin Marble
The price of Harsin Marble grade one depends on several factors such as design, dimensions, thickness, sorting, and quality of stone processing. In general, marble is classified into premium, super first, and second grade.
All about Marble stone